Paving, Grinding, and Recycling Services Page:
The life span of asphalt concrete (AC) or hot mix asphalt (HMA) pavement is typically designed to last about 20 years (give or take), and it is intended for a particular traffic volume. The "give or take" will depend on the upkeep or maintenance that this pavement will receive over its lifetime. If no maintenance procedures are performed and the traffic volume increases, then the original life span of the pavement will most likely be reduced to less than 20 years. However, if periodical pavement maintenance is performed and is strategically placed within these 20 years, the life span can surpass 30 years. The life span of asphalt pavement is also affected by how it was produced to how it was shipped, handled, paved, and/or compacted in place.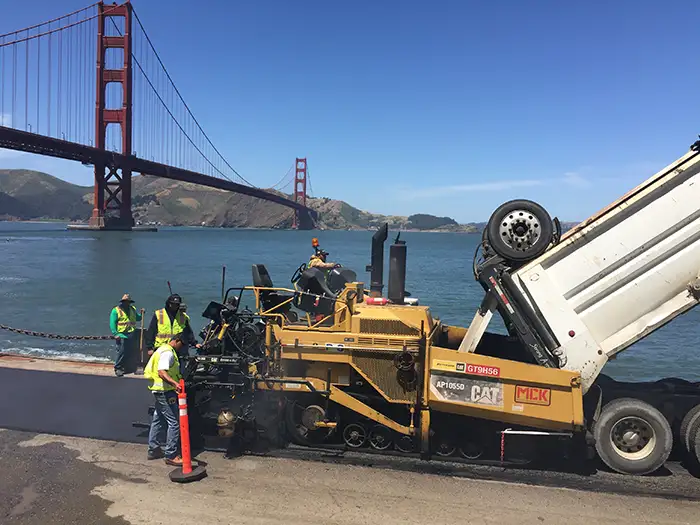 At MCK, we take pride in our work. Our clients are satisfied with the finished product, from our grinding services to recycling and/or paving services because we care about our crew members. This element is key: we do it once, we do it right!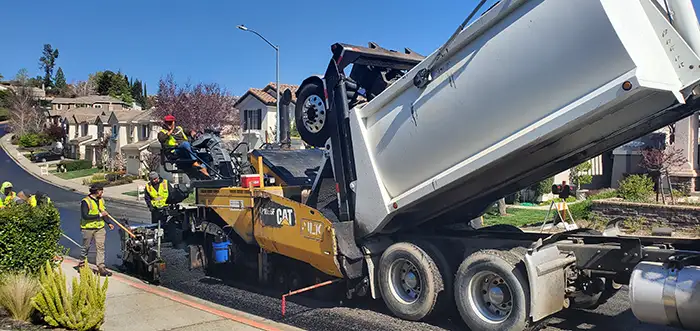 We have the experience, expertise, and resources to deliver the highest quality solutions on time and within budget for any project. Our main services include asphalt paving, Cold In-Place Recycling (CIR), grinding (or cold planing), and trench restoration.
Asphalt Paving
Fun Fact: In California about 94% of the existing roadways are paved using asphalt! Therefore, asphalt in many ways has a big impact on our daily lives. Providing a completed quality asphalt pavement surface is very important to us because we know that any additional compactive effort that we put into the asphalt pavement will increase the pavement's life span. Researchers have been able to quantify that achieving an additional 1% more compaction typically increases the pavement life by 10%.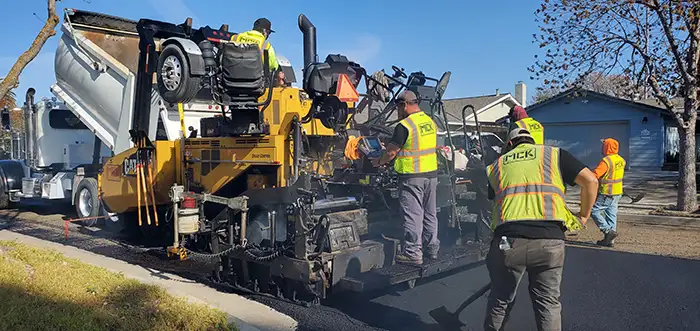 At MCK, we provide competitive quotes to keep our crew and staff working, which enhances our lives through the work that we perform and complete together. Because we care, so does our crew! Read More About Asphalt Paving »
Cold In-Place Recycling (CIR)
CIR is a rehabilitation technique that recycles the existing in-place pavement structure, which involves reusing the top 2 to 6 inches of the existing asphalt pavement surface to produce a new base layer.
Not all recycling contractors are created equal. Each recycling contractor has different means and methods to recycle the roadway. At MCK, our set-up train consists of a site spreader, the main CIR train, conventional paver, and compaction rollers. The main CIR train includes a water truck and a hot asphalt binder truck that is hooked up to our cold recycler. Typically, a small amount of cement is spread in front of the CIR train.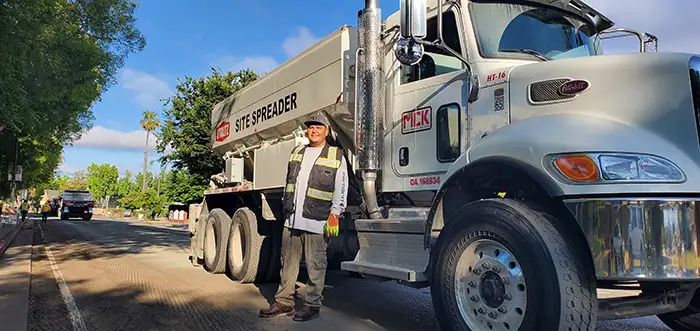 The reclaimed asphalt pavement (RAP) is grinded in place and combined with cement, foamed asphalt, and compaction water to produce a homogenous CIR material in the mixing chamber of the cold recycler. The material is then transported from the conveyer belt directly into our paver and ready for distribution onto the street. This recycled pavement layer has been cooled down to roughly 85°F and is safe to touch and/or walk on without any special heat resistance gear.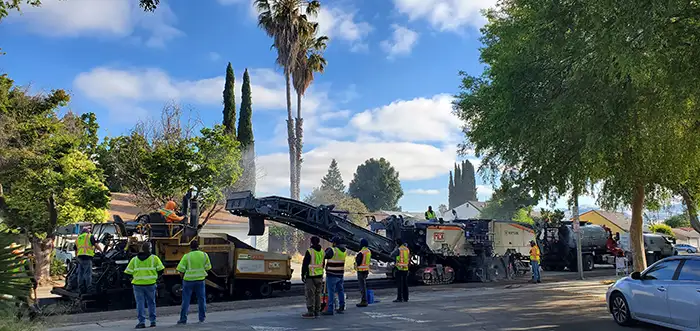 The compaction equipment includes our breakdown tandem steel drum rollers, pneumatic tire roller, and the finish steel drum roller. Once the material is compacted to the project specifications, a fog seal application and sand cover are applied to the compacted CIR layer and opened to live traffic. Read More About CIR »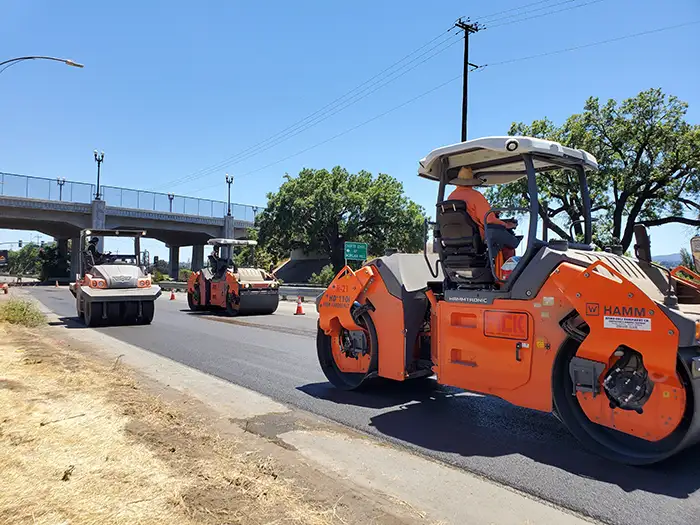 Grinding (or Cold Planing)
Grinding is necessary to match newly paved material to existing facilities such as curb and gutter or to correct existing pavement issues like a high crown in the middle of the roadway. Grinding is also required on "remove and replace" HMA resurfacing or rehabilitation projects. We can also provide trench grinding for utility repair improvement projects. Read More About Grinding (or Cold Planing) »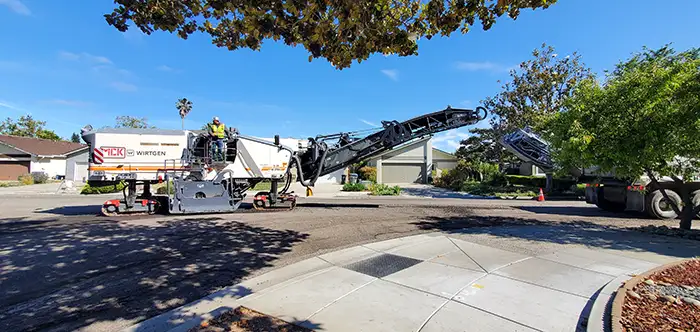 Trench Restoration
We provide trench restoration as a subcontractor to our partners from trench grinding to trench paving. We also provide Quality Control (QC) inspection and testing to our partners on trench restoration projects that require QC as part of the specifications. Read More About Trench Restoration »
We Provide Services to the Following Cities, Towns and Surrounding Regions of Bay Area, CA: